Introduction
Welcome to GoPlanogram!
Upon logging into your site, you will see the following user interface. Below, we briefly touch on each of its main sections, and provide links to help you get the most from your time with GoPlanogram.
This UI is for a site admin with a full GoPlanogram subscription. If you are not an admin or are using GoPlanogram Lite, some elements will not appear.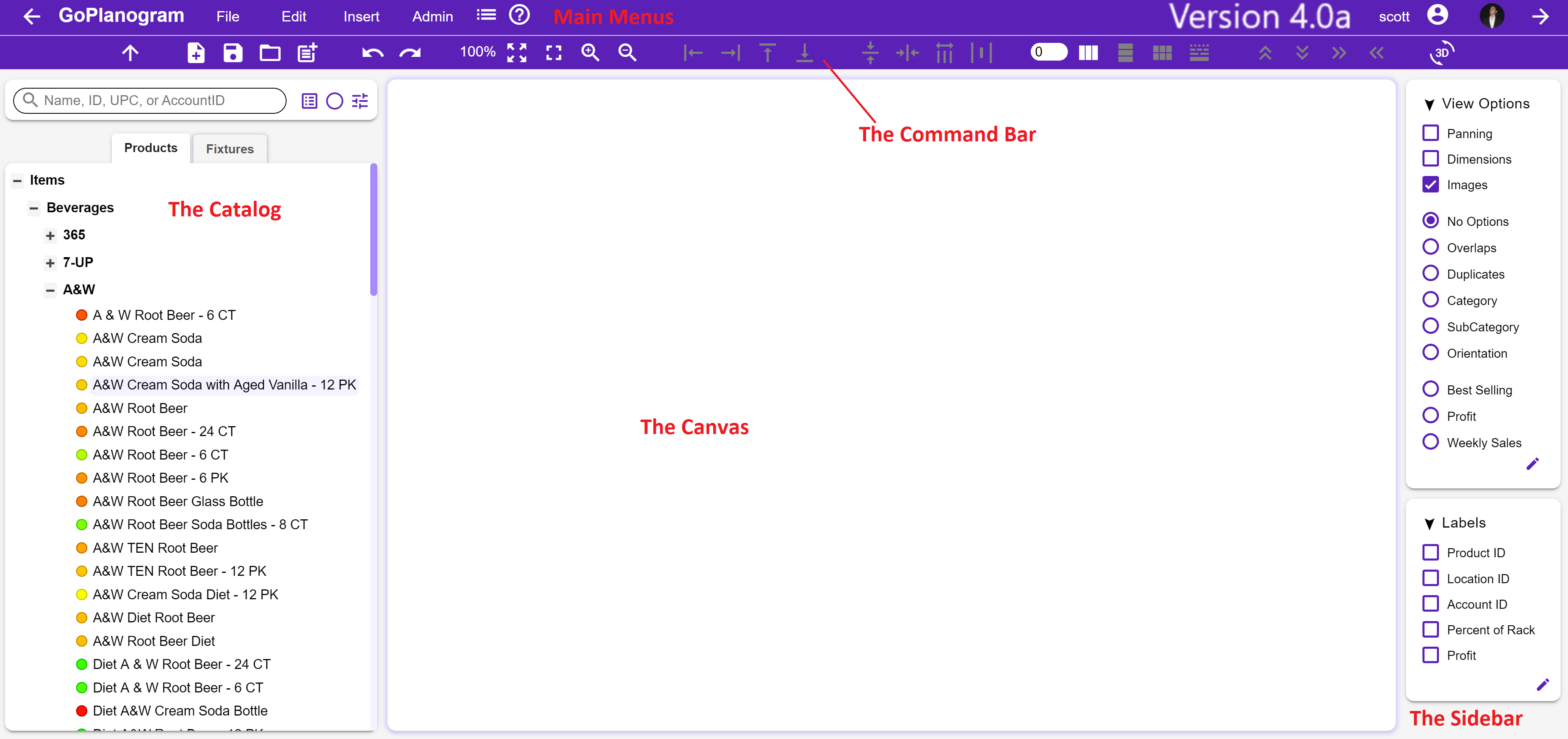 The Catalog
The Products tab contains all products your site admin(s) uploaded, along with saved product groups.
The Fixtures tab contains default fixtures (racks, shelves, tables) you can drag out onto the canvas, and saved fixture groups.
Directly above these is a search bar that can be used to filter what appears in the catalog. There are many ways to filter your catalog. Read more here.
The Canvas
The canvas is where your display is created. You can drag products and fixtures from the catalog out to it, and arrange them by hand, or with layouts.
The Sidebar
The sidebar contains various view options and label options to help you analyze and optimize your displays.
The Command Bar
The command bar contains various buttons for filesystem operations, undo/redo, canvas scale controls, various layout options, product duplication buttons, and a button to launch 3D mode.
The up-arrow button on the left side of this bar can be used to hide it.
The Main Menus
This top bar contains the main menus for GoPlanogram. These include:
To the right of the main menus are buttons to view current display aggregates, and view keyboard shortcuts.
Beyond that, to the left of the right-most arrow button, there are two account buttons. One is for your GoPlanogram account -- if you click the button, you will see your account privileges and a Log Out button. The other is to sign into a Google Account, so you can save images and reports directly to your Google Drive.
This also contains arrow buttons to show / hide the Catalog and the Sidebar.